Hairpin 5k Run/Walk
The Hairpin 5K Run/Walk is the longest running 5K event in Door County, WI, and it has become a great July 4 tradition for runners and walkers of all ages. Friends of Gibraltar Schools has hosted the event as a fundraiser for over 30 years, with proceeds providing enrichment experiences for all K-12 students at Gibraltar Schools in Fish Creek.
Start Time and Location
8:00AM at Alexander Noble House Museum Park, 4167 Main Street, Fish Creek, WI
Water and Food
Water will be provided near the halfway mark on the course. Water and a snack will be provided at the finish line.
Restrooms & Parking
We will provide porta-potties at Clark Park but here is a map of other public restrooms around Fish Creek so you can plan to use other facilities as well. You can park wherever you like but we wanted to let you know about a large new parking area located a couple of blocks from Noble Park at 4081 Main Street, Fish Creek, WI.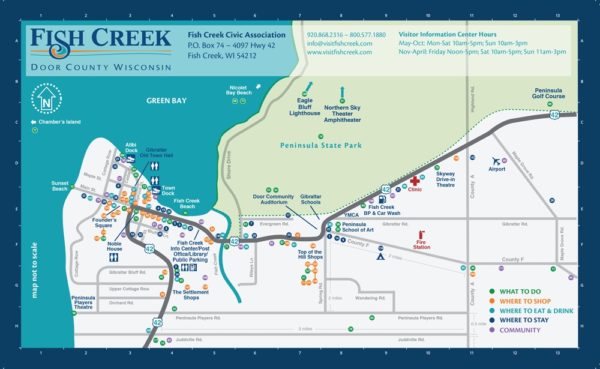 Participants agree to comply with all CDC recommendations for social distancing at all times and also agree to wear proper attire including a face mask if required or suggested by current CDC guidelines.
Timing (Runners Only)
Runners will be provided with a timing chip on their participation bib. Walkers will not be timed.
Finish Line
Water and a snack will be provided at the finish line.
Spectators
Due to limited space in the finish area, we ask spectators to stay 6-feet apart and return to Noble Park for the awards ceremony as soon as your friends/family have crossed the finish line. Results will be provided online with a QR code.
Bib Pick-up and Onsite Registration
Runners and Walkers please pick up your participation bib and T-shirt at the Old Gibraltar Town Hall at 4176 Maple Street, Fish Creek, WI
July 3 – 3:00 – 5:00 PM
July 4 from 6:30 – 7:30AM
Awards
Medals will be awarded and shipped to the first-place male and female finishers in the following age group divisions: (5-9) (10-14) (15-19) (20-24) (25-29) (30-34) (35-39) (40-44) (45-49) (50-54) (55-59) (60-64) (65-69) (70-74) (75-79) (80-84) (85-89) and (90+)
Hairpin 5K T-Shirt and Merchandise Order
The 2022 registration price includes a cotton event T-shirt, but event T-shirts are only guaranteed to those
registered by June 14
.
Register before June 14 and the event t-shirt is included with your registration fee and available for pickup on July 4! Register after June 14 and you can purchase an event shirt for $7.50 in addition to your registration fee and it will be shipped to you after July 4.
We have partnered with FLS Banners in Sturgeon Bay, WI to make additional Hairpin merchandise available to purchase by ordering online and it will be shipped directly to you! We are also offering a synthetic shirt with UV protection and a hat with the Hairpin 5K logo. Even if you were not able to participate in the event you can still purchase a T-shirt or a hat!
We will take orders until July 9 and then FLS will print all of the ordered merchandise and ship it directly to you.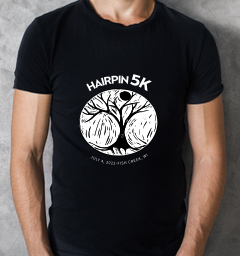 Refund Policy
This event follows the standard running industry policy: All entry fees are non-refundable. We reserve the right to postpone or cancel the event due to circumstances beyond our control such as a natural disaster or emergency or as required to protect the safety of participants and staff. No refunds will be issued under these circumstances. We reserve the right to change the details of the event without prior notice. I understand that my entry fee is nonrefundable and bib numbers are non-transferable.