Hairpin 5k Run/Walk
The Hairpin 5K Run/Walk is the longest running 5K event in Door County, WI, and it has become a great July 4 tradition for runners and walkers of all ages. Friends of Gibraltar Schools has hosted the event as a fundraiser for over 30 years, with proceeds providing enrichment experiences for all K-12 students at Gibraltar Schools in Fish Creek.
PLEASE NOTE: Hairpin 5K Run/Walk 2021 – Pandemic year changes:
We welcome in person and virtual participation this year. 
Start Time and Location
7:30AM at Alexander Noble House Museum Park, 4167 Main Street, Fish Creek, WI 
7:30 AM start time will accommodate starting the event in waves so we can socially distance people. Please wear face MASKS in the start and finish areas. 
We ask that participants follow directions for wave starts by lining up on Bluff and Hill Roads adjacent to Noble Park. Participants please line up 6-feet apart from those not in your immediate group/family. We will start the first wave at 7:30 AM and then each wave immediately after so please be at the start area by 7:15AM. 
Water and Food
PLEASE BRING YOUR OWN WATER BOTTLE. For health purposes we are avoiding open cups of water and open food. We will not have water or food at the finish line. We will have a limited supply of disposable water bottles and pre-packaged snacks at the Noble House park. 
Restrooms & Parking
We will provide a few porta-potties spread out at Noble Park but here is a map of other public restrooms around Fish Creek so you can plan to use other facilities as well. You can park wherever you like but we wanted to let you know about a large new parking area located a couple of blocks from Noble Park at 4081 Main Street, Fish Creek, WI.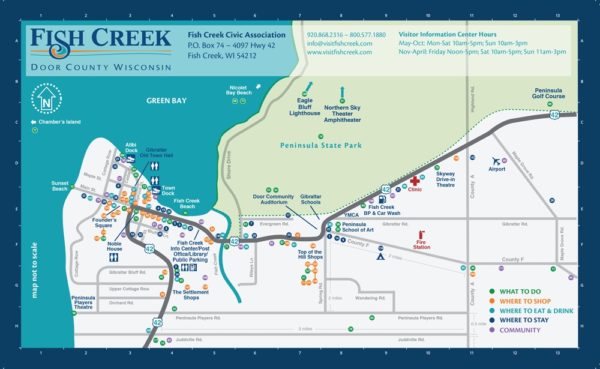 Participants agree to comply with all CDC recommendations for social distancing at all times and also agree to wear proper attire including a face mask if required or suggested by current CDC guidelines.
Timing (Runners Only)
Virtual and In-person Runners, if you would like to submit your time, please fill out the following form and submit. Report Results.  We will not be offering any timing services in 2021. We encourage you to download a timing App of your choice on your mobile device and submit your time. If you do not care to time yourself then just enjoy the run/walk without submitting your time. 
Times must be reported by July 5th at 11:59pm. We will tally all submitted times and list first, second and third place times in all age categories. We will mail out first place medals in all age categories instead of having an awards ceremony. PLEASE SUBMIT YOUR TIME HERE. 
Finish Line
We want to be good hosts and have a safe event in person so to prevent crowds gathering we ask that you plan to leave the finish line as soon as you are finished and meet up with your friends and family back at Noble Park. We will not have water or food at the finish line. We will have a limited supply of disposable water bottles and pre-packaged snacks at the Noble House park.
Spectators
Due to limited space in the finish area we ask spectators to stay 6-feet apart and return to Noble Park as soon as your friends/family have crossed the finish line. 
Bib Pick-up and No Onsite Registration
Runners and Walkers please pick up your participation bib at Noble Square Park from 6:30-7:30AM on July 4 only.
There will be no registration available on site this year. T-shirts are not included in the registration but event merchandise can be ordered online. 
Awards
Medals will be awarded and shipped to the first-place male and female finishers in the following age group divisions: (5-9) (10-14) (15-19) (20-24) (25-29) (30-34) (35-39) (40-44) (45-49) (50-54) (55-59) (60-64) (65-69) (70-74) (75-79) (80-84) (85-89) and (90+)
Transition to Virtual Event in 2021
We are doing our best to offer an in-person event. However, as of April 2021, our State and County are rated as having high Covid activity, which makes large gatherings a high risk.
The Hairpin 5K Run/Walk organizers reserve the right to make this event completely virtual as needed to address Covid concerns the Door County Public Health Department may have in July. We will not provide refunds or referrals if this event becomes completely virtual. 
If you prefer to sign up as a virtual participant, please do so on your registration form — it will help us with advance planning and preparations for the in-person event. Virtual participants time themselves and run or walk any 5K distance before July 5, submitting their time in the results section on our website.
Hairpin 5K T-Shirt and Merchandise Order 
T-SHIRTS NOT INCLUDED IN REGISTRATION BUT CAN BE ORDERED ONLINE.
The 2021 registration price does not include a T-shirt. We have partnered with FLS Banners in Sturgeon Bay, WI to make ordering Hairpin merchandise available online and shipped directly to you!
This year we are offering a cotton T-shirt with a 2021 Hairpin 5K design on the front and the sponsors on the back. We are also offering a synthetic shirt with UV protection and a hat with the Hairpin 5K logo. Even if you were not able to participate in the event you can still purchase a T-shirt or a hat!
We will take orders until July 9 and then FLS will print all of the ordered merchandise and ship it directly to you. We realize that some may have wanted the event shirt and or merchandise before July 4 but we are proud to continue our relationship with FLS Banners for the production of these items.