Join the Hairpin 5K Run/Walk
The Hairpin 5K Run/Walk is the longest running 5K in Door County, WI and it is a great July 4 tradition for runners and walkers of all ages. The race starts at 8am!
Friends of Gibraltar Schools has hosted the Hairpin 5K Run/Walk as a fundraising event for over 30 years with the proceeds providing all of the funding each year for field trips and enrichment experiences for students in grades K-12 at Gibraltar Schools in Fish Creek, WI. Your participation allows Friends of Gibraltar to continue providing excellent educational programs for Gibraltar Schools.
Refunds or referrals will not be given in the case of event cancellation.
Registration Price
Please note we are no longer taking mail in registrations.
April 1 – June 15
Adults (ages 13+): $25 + tax
Children (ages 12 & under): $10 + tax
June 16 – July 3
Adults (ages 13+): $30 + tax
Children (ages 12 & under): $15 + tax
July 4 – Registration closes at 7:30AM
Adults (ages 13+): $35 + tax
Children (ages 12 & under): $15 + tax 
T-Shirts – Register by June 14th
Register before June 14 and the event t-shirt is included with your registration fee and available for pickup on July 4! Register after June 14 and you can purchase an event shirt for $7.50 in addition to your registration fee and it will be shipped to you after July 4.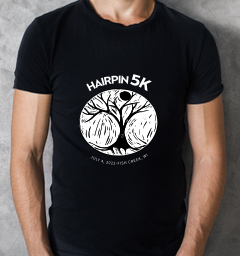 Merchandise Available to Order
We have partnered with FLS Banners in Sturgeon Bay, WI to make additional Hairpin merchandise available to purchase by ordering online and it will be shipped directly to you!
We greatly appreciate the Hairpin 5K Run/Walk participants for their support for school students!
Timing (Runners Only)
The Hairpin 5K will have an official timing return this year for runners with a timing chip on the event bib. The event will be a horn start at 8am.