The Hairpin 5K course is open to traffic. Highway 42 will be closed for about 20 minutes at the start of the event but all other roadways are open to traffic during the event. These are quiet back roads but please proceed with caution as there will be cars sharing the roadway.
Strollers for children are allowed on the course. Dogs are NOT allowed on the course.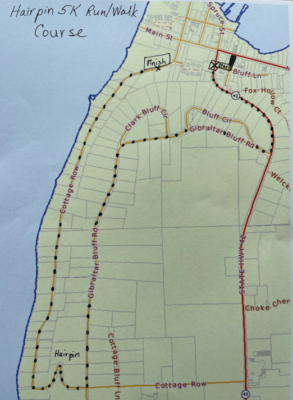 The Friends of Gibraltar Hairpin Run starts at Alexander Noble House Museum Park (4167 Main Street, Fish Creek, WI) taking runners up the challenging Fish Creek Hill past a stunning view overlooking the village and Peninsula State Park.
At the top of the hill the course turns down Gibraltar Bluff Road before descending down the steep switchback of the infamous hairpin turn on Cottage Row. Cottage Row was once home to the cottage of famed Green Bay Packers head coach Curly Lambeau. The cottage was destroyed by a fire in the 1960s.
The race finishes just before entering the village as runners leave the wooded canopy behind Founders Square.